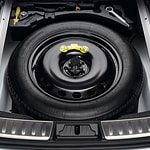 Having a spare with you when you're driving can provide a safety net if you ever find yourself with a flat tire. Rather than having to call a tow truck, you can replace the tire yourself and drive safely to your mechanic in Spokane. In choosing a spare tire for your vehicle, it's important to note the different types that are available so that you can select one that matches the variables in play in your situation.
If your vehicle has limited space, then a compact temporary spare tire is the best option. These spare tires aren't nearly as wide as their full-size counterparts, meaning that they're much easier to store in a trunk without taking up storage space. Another option is a full-size spare tire. If you plan on being far away from a mechanic for a long period of time, then this is the best option, since a full-size spare tire allows you to drive normally.
For more advice on spare tires and for assistance with your vehicle's other tires, stop by the service center at Subaru of Spokane today.