The 2021 Subaru Love Promise Community Commitment Award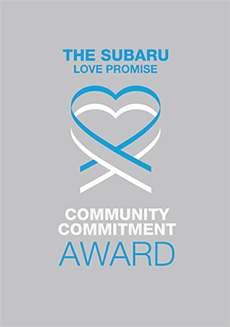 We've been nationally recognized for our dedication to our community and the Subaru Love Promise.
We're honored to receive the 2021 Subaru Love Promise Community Commitment Award. This award nationally recognizes Subaru retailers who are making the world a better place while demonstrating an outstanding commitment to supporting passions and causes in local communities. These efforts are focused in important areas such as the environment, community, health, education, and pets.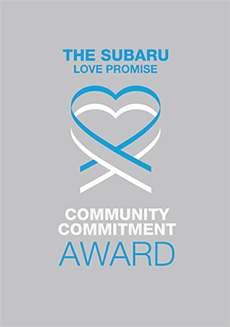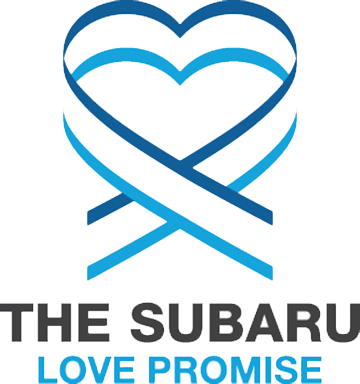 What is the Subaru Love Promise?
Subaru and our retailers believe in making the world a better place and the Subaru Love Promise is our vision of respecting all people. This is our commitment to show love and respect to our customers and to work to make a positive impact in the world.
How is Subaru of Spokane dedicated locally to the Love Promise?
Our Love Promise can be seen in various partnerships with local charities and non-profits. We're grateful for the opportunity, not only to be a part of our community, but to serve it as well.
Love Promise Stories from Subaru of Spokane
Subaru and Subaru of Spokane believe in making a positive impact on the communities in which we live and work. We uphold that belief through our Love Promise Community Commitment. Every month, we select inspiring stories from customers and partners from around our area who strive to support our collective commitment and feature them here
Cosmo the Underdog's Rags to Riches Story - Anna H
Cosmo is a Subaru Underdog with an amazing rags-to-riches story. In December 2020, Cosmo was one of 100 dogs rescued from horrific hoarding conditions in California. Unable to find local placement for the traumatized Chihauhua, the rescue group transferred Cosmo to SpokAnimal in September 2021. The poor little guy arrived in rough shape. His corneal scar was noted along with poor skin conditions and dental disease. While nothing could be done for his eye, SpokAnimal provided Cosmo with a complete dental that included 10 extractions, ending the pain he'd endured due to poor oral health. Dietary improvements addressed his skin conditions, and a loving foster provided a soothing home to recuperate. Cosmo made his adoption-ready debut at Subaru of Spokane during the ASPCA/Subaru Love Pets adoption event in early October 2021, but it would be his appearance at PetSmart a few days later that landed him a new home. Jessica, a store employee and local grad student, learned his backstory and relayed his tale to her Mom. Susan and her husband, who are empty nesters living in Southern Idaho, had been thinking about adding a new addition to their fur family. While they had been leaning towards a puppy, Cosmo's story touched their hearts. They knew he might not ever be a playful dog and that it might not be easy, but they could give the 8-year-old senior gent the loving home he's never had. With a girl's weekend already scheduled, a deal was struck. Susan's daughter was her proxy in Cosmo's adoption, and Cosmo was given to Susan over the weekend get-away. Today, Cosmo contently shares a quite home with another senior dog and two cats. While he's still taut with tension and he spends much of his time in his safe-haven crate, day-by-day Susan sees him gradually understanding that he's in a place where he will be well cared for and loved. Happy forever after, Cosmo! The sky's the limit!
---
SECOND HARVEST INLAND NORTHWEST - MIKE K
Subaru of Spokane is excited to be a proud sponsor of Second Harvest Inland Northwest. We feel the work done by this organization is invaluable to the community and it's residents. Providing food and nourishment to the communities less fortunate is an essential aspect as to what communities should strife to attain. Second Harvest Inland Northwest is an organization most worthy of sponsorships and donation. We are very happy to be a small part of this outstanding organization.
---
MEALS ON WHEELS SPOKANE - Mike K - MIKE K
It is our pleasure to be in partnership with our local Meals on Wheels Spokane branch. Once again we have chosen Meals on Wheels Spokane to be our hometown charity during our year end Share The Love event. We like to think we have a small part in helping Meals On Wheels Spokane help the needy and less fortune citizens in our city. We also sponsor and donate to their many events. Golf outings, Motown music and dancing and " stuffing the trunk " at various locations around the city. Our employees pitch in and deliver meals as well. We are proud to be a small part of this wonderful and needed organization.
---
Mel Feels Subaru's Love Promise - Anna H
The Wylie's had promised their eight-year-old son he could have a dog when they got a new house and after he'd convinced his parents he'd be a responsible pet owner. While the Wylie's had gotten their house this past summer, their son was still waiting for his dog. Then, in early October, they found her, and it was love at first sight for the Wylie family and Mel, the 10-year old Australian Cattle Dog. "She came out of the shelter with her ears down, and her eyes looked sad and a bit confused, but her docked tail was wiggling wildly with hope...and we just knew she was the one for us," explained Moriah. "We'd learned her original owner has passed away, and even though she was ten, we didn't care about her age. We just wanted a dog that loved kids. In fact, I actually love older dogs. The ones I've had have always been tender and gentle, almost motherly. Plus, they are already house trained and calm. I also think we just have a heart for animals' people normally look over." She explained that Mel has a sister that was adopted from SpokAnimal five years prior. She is a three-legged, slightly cross-eyed, Siamese cat named Eileen. And the boy and his new dog? Moriah proudly reports her son, James, has lived up to his end of the bargain. He takes Mel on walks, make sure she goes out multiple times a day, and is looking forward to brushing her teeth with the new toothbrush they got her. As for Mel, well, she's grown fond of bacon flavored dental chews, and she's proven she's not too old for toys. A small soft basketball is her favorite for playing an energetic came of fetch, and her spryness surprised the Wylie's. While the house stairs are more than she wants to take on at night, Mel is content to fall asleep on her cozy bed by the electric fireplace in her new furrever home. From all of us at SpokAnimal, "Thank You, Subaru of Spokane!" Your support helps make stories like Mel's possible!
---
Subaru of Spokane Brings Comfort to Cancer - Katie J
Subaru of Spokane is a wonderful partner in the fight against blood cancer. On June 25, 2019, they showed their dedication to the mission of the Leukemia & Lymphoma Society of ending blood cancer and improving the quality of life of patients and their families; by hand delivering 80 warm blankets to cancer patients at Cancer Care Northwest. Subaru of Spokane is a true leader in the community when it comes to giving back. This was the fourth year of this partnership and each year, Cancer Care Northwest is so thankful to be able to offer these items to their patients going through the rigors of cancer treatment. Thank you so much for helping LLS fulfill our mission!
---
Subaru of Spokane Loves Caring For Cancer Patients - Katie J
On June 25th, Subaru of Spokane partnered with the Leukemia & Lymphoma Society for the third consecutive year. They delivered blankets and arts and crafts kits to the patients and kids experiencing cancer at Cancer Care Northwest. Patients will each receive a beautiful blanket and hand-written message of hope from customers at Subaru of Spokane as well as arts and crafts kits for kids. The Leukemia & Lymphoma Society exists to find cures for cancer and improve the quality of life of cancer patients and their families in Washington; and Subaru helps LLS by donating critical research dollars. Thank you again for your care and compassion for the patients at Cancer Care Northwest; and for helping the Leukemia & Lymphoma Society fund local life-saving research to beat cancer and provide programs and services for patients in Spokane and beyond.
---
Subaru and NWF Loves the Earth - Melissa P
Our garden is blooming ! Thank you so much for giving us this opportunity. Our garden is filled with the beautiful native plants that you have provided. The students have been enjoying watching the garden grow and all of the visitors that are coming to check it out. We added earthworms to our garden last week. What an amazing opportunity !
---
Adams Elementary truley butterfly Hero's! - Beth N
Some wonderful artwork from Adams Elementary 1st Grade class as they continue on caring for their Butterfly Habitat. These kids are truly "Butterfly Hero's!!!" Nice work Julie Kinzer and your awesome group of caring kids!
---
Adams Elementary are our Butterfly Heros!!! - Julie K
Subaru of Spokane partners with an awesome group of Kids at Adams Elementary School to take the handoff on our National Wildlife Federation Monarch Butterfly Habitat! Led by Beth Nye Principal and 1st Grade teacher Julie Kinzer twelve 1st graders led the charge organizing the future of the Butterfly Habitat which will be kept secure on the school playground. Each day a chosen 1st grader will care for the Habitat making sure it is watered and secure. We look forward to regular updates on their progress as they do their important part in securing the future of the Monarch Butterfly. Congratulations Adams Elementary 1st Grade class on a job well done!
---
Doing our part to save the butterflies! - Subaru of S
Did you know the monarch population in the United States has declined by more than 90 percent in recent years? For the month of April, Subaru of Spokane is partnering with the National Wildlife Foundation for the Butterfly Heroes Program. Butterfly Heroes seeks to bring awareness to the declining population and connect our community of gardeners and kids, families, and schools alike to help the monarchs and other pollinators. Creating monarch and pollinator habitat is a wonderful opportunity for observing one of nature's most miraculous occurrences. The unique transformation the monarch butterfly undergoes during its lifecycle from egg, caterpillar (larva), chrysalis to the delicate yet resilient butterfly is wonderfully intriguing for students and teachers alike. Subaru of Spokane will have a butterfly habitat planter on site and be giving away seed kits. Stop in and check it out. We also encourage you to be a butterfly hero and grow your own butterfly habitat at home. It's a great activity for the kids or grandkids!
---