The 2021 Subaru Love Promise Community Commitment Award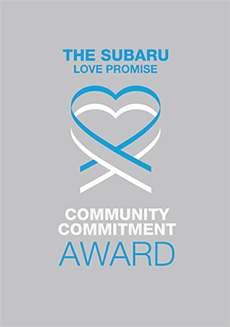 We've been nationally recognized for our dedication to our community and the Subaru Love Promise.
We're honored to receive the 2021 Subaru Love Promise Community Commitment Award. This award nationally recognizes Subaru retailers who are making the world a better place while demonstrating an outstanding commitment to supporting passions and causes in local communities. These efforts are focused in important areas such as the environment, community, health, education, and pets.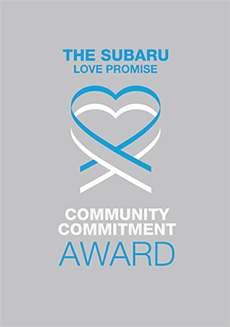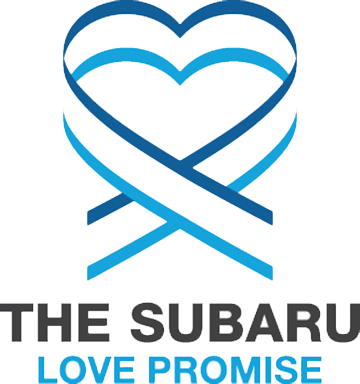 What is the Subaru Love Promise?
Subaru and our retailers believe in making the world a better place and the Subaru Love Promise is our vision of respecting all people. This is our commitment to show love and respect to our customers and to work to make a positive impact in the world.
How is Subaru of Spokane dedicated locally to the Love Promise?
Our Love Promise can be seen in various partnerships with local charities and non-profits. We're grateful for the opportunity, not only to be a part of our community, but to serve it as well.
Love Promise Stories from Subaru of Spokane
Subaru and Subaru of Spokane believe in making a positive impact on the communities in which we live and work. We uphold that belief through our Love Promise Community Commitment. Every month, we select inspiring stories from customers and partners from around our area who strive to support our collective commitment and feature them here
SECOND HARVEST INLAND NORTHWEST - MIKE K
Subaru of Spokane is excited to be a proud sponsor of Second Harvest Inland Northwest. We feel the work done by this organization is invaluable to the community and it's residents. Providing food and nourishment to the communities less fortunate is an essential aspect as to what communities should strife to attain. Second Harvest Inland Northwest is an organization most worthy of sponsorships and donation. We are very happy to be a small part of this outstanding organization.
---
MEALS ON WHEELS SPOKANE - Mike K - MIKE K
It is our pleasure to be in partnership with our local Meals on Wheels Spokane branch. Once again we have chosen Meals on Wheels Spokane to be our hometown charity during our year end Share The Love event. We like to think we have a small part in helping Meals On Wheels Spokane help the needy and less fortune citizens in our city. We also sponsor and donate to their many events. Golf outings, Motown music and dancing and " stuffing the trunk " at various locations around the city. Our employees pitch in and deliver meals as well. We are proud to be a small part of this wonderful and needed organization.
---
Mel Feels Subaru's Love Promise - Anna H
The Wylie's had promised their eight-year-old son he could have a dog when they got a new house and after he'd convinced his parents he'd be a responsible pet owner. While the Wylie's had gotten their house this past summer, their son was still waiting for his dog. Then, in early October, they found her, and it was love at first sight for the Wylie family and Mel, the 10-year old Australian Cattle Dog. "She came out of the shelter with her ears down, and her eyes looked sad and a bit confused, but her docked tail was wiggling wildly with hope...and we just knew she was the one for us," explained Moriah. "We'd learned her original owner has passed away, and even though she was ten, we didn't care about her age. We just wanted a dog that loved kids. In fact, I actually love older dogs. The ones I've had have always been tender and gentle, almost motherly. Plus, they are already house trained and calm. I also think we just have a heart for animals' people normally look over." She explained that Mel has a sister that was adopted from SpokAnimal five years prior. She is a three-legged, slightly cross-eyed, Siamese cat named Eileen. And the boy and his new dog? Moriah proudly reports her son, James, has lived up to his end of the bargain. He takes Mel on walks, make sure she goes out multiple times a day, and is looking forward to brushing her teeth with the new toothbrush they got her. As for Mel, well, she's grown fond of bacon flavored dental chews, and she's proven she's not too old for toys. A small soft basketball is her favorite for playing an energetic came of fetch, and her spryness surprised the Wylie's. While the house stairs are more than she wants to take on at night, Mel is content to fall asleep on her cozy bed by the electric fireplace in her new furrever home. From all of us at SpokAnimal, "Thank You, Subaru of Spokane!" Your support helps make stories like Mel's possible!
---
Subaru of Spokane Brings Comfort to Cancer - Katie J
Subaru of Spokane is a wonderful partner in the fight against blood cancer. On June 25, 2019, they showed their dedication to the mission of the Leukemia & Lymphoma Society of ending blood cancer and improving the quality of life of patients and their families; by hand delivering 80 warm blankets to cancer patients at Cancer Care Northwest. Subaru of Spokane is a true leader in the community when it comes to giving back. This was the fourth year of this partnership and each year, Cancer Care Northwest is so thankful to be able to offer these items to their patients going through the rigors of cancer treatment. Thank you so much for helping LLS fulfill our mission!
---
Subaru of Spokane Loves Caring For Cancer Patients - Katie J
On June 25th, Subaru of Spokane partnered with the Leukemia & Lymphoma Society for the third consecutive year. They delivered blankets and arts and crafts kits to the patients and kids experiencing cancer at Cancer Care Northwest. Patients will each receive a beautiful blanket and hand-written message of hope from customers at Subaru of Spokane as well as arts and crafts kits for kids. The Leukemia & Lymphoma Society exists to find cures for cancer and improve the quality of life of cancer patients and their families in Washington; and Subaru helps LLS by donating critical research dollars. Thank you again for your care and compassion for the patients at Cancer Care Northwest; and for helping the Leukemia & Lymphoma Society fund local life-saving research to beat cancer and provide programs and services for patients in Spokane and beyond.
---
Subaru and NWF Loves the Earth - Melissa P
Our garden is blooming ! Thank you so much for giving us this opportunity. Our garden is filled with the beautiful native plants that you have provided. The students have been enjoying watching the garden grow and all of the visitors that are coming to check it out. We added earthworms to our garden last week. What an amazing opportunity !
---
Adams Elementary truley butterfly Hero's! - Beth N
Some wonderful artwork from Adams Elementary 1st Grade class as they continue on caring for their Butterfly Habitat. These kids are truly "Butterfly Hero's!!!" Nice work Julie Kinzer and your awesome group of caring kids!
---
Adams Elementary are our Butterfly Heros!!! - Julie K
Subaru of Spokane partners with an awesome group of Kids at Adams Elementary School to take the handoff on our National Wildlife Federation Monarch Butterfly Habitat! Led by Beth Nye Principal and 1st Grade teacher Julie Kinzer twelve 1st graders led the charge organizing the future of the Butterfly Habitat which will be kept secure on the school playground. Each day a chosen 1st grader will care for the Habitat making sure it is watered and secure. We look forward to regular updates on their progress as they do their important part in securing the future of the Monarch Butterfly. Congratulations Adams Elementary 1st Grade class on a job well done!
---
Doing our part to save the butterflies! - Subaru of S
Did you know the monarch population in the United States has declined by more than 90 percent in recent years? For the month of April, Subaru of Spokane is partnering with the National Wildlife Foundation for the Butterfly Heroes Program. Butterfly Heroes seeks to bring awareness to the declining population and connect our community of gardeners and kids, families, and schools alike to help the monarchs and other pollinators. Creating monarch and pollinator habitat is a wonderful opportunity for observing one of nature's most miraculous occurrences. The unique transformation the monarch butterfly undergoes during its lifecycle from egg, caterpillar (larva), chrysalis to the delicate yet resilient butterfly is wonderfully intriguing for students and teachers alike. Subaru of Spokane will have a butterfly habitat planter on site and be giving away seed kits. Stop in and check it out. We also encourage you to be a butterfly hero and grow your own butterfly habitat at home. It's a great activity for the kids or grandkids!
---
Over 12,000 Meals Thanks to Subaru of Spokane! - John L
Relying on a three year history of working together within the Spokane community the Staffs of Meals on Wheels Spokane and Subaru Spokane partnered once again for Share the Love! The result was nothing less than amazing generating an unprecedented $48,279 which will ultimately provide over 12,000 meals for the less fortunate in our local community! This didn't just happen... numerous planning meetings before the event resulted in very specific plan to market Meals on Wheels to every single Subaru Customer that was considering the purchase of a new Subaru during the STL. We had posters, table toppers and handouts throughout the store telling the meals on Wheels Spokane story of the wonderful work they do every day within our local community. We had three staffed events including everyone's favorite stuffing Santa's Red Outback with needed items for the Meals on Wheels community. In the end over 90% of the 166 new Subies purchased during STL chose Meals on Wheels Spokane as their charity of choice! We would like to thank Meals on Wheels Spokane for the countless hours of wonderful work they do helping the less fortunate in the Spokane Community have better lives! We at Subaru of Spokane are honored every day to be a small part of this wonderful organization!
---
Stuffing Santa's Forester for MOW Spokane! - Mollie D
A successful day of Sharing the Love with Meals on Wheels Spokane! We received socks, hats, gloves, soup, hot cocoa mix and other food to give to our seniors. One little girl donated paint sets which will be used at the senior center. We received a little over 100.00 in money donations. Congratulations!
---
Subaru Spokane Sharing the Love - Heath's Haven! - Jolene H
We learned of Heath's Haven Rescue for special needs dogs through an employee of our dealership that works with a number of shelters in our area. Upon doing a bit of research on what Heaths Haven provided for these amazing dogs we had to get involved! In the month of October we are partnering with Heaths to help raise awareness for this great organization and needed items including Dog beds, blankets, toys, pet shampoo and much more. We received a visit from a few of these amazing Animals on Saturday - it was truly inspirational! We look forward to another visit or two before the end of October and the collection of many needed items for this great organization!
---
Cotton Classic to benefit Meals on Wheels Spokane - Mollie D
We were once again honored to be a part of the Cotton Classic Golf Event benefiting our wonderful community partners Meals on Wheels Spokane. With over 140 golfers the event set an all-time record raising $86,000 for this awesome local organization. We look forward to next year and having a lucky participant winning the new Subaru Forester hole in one prize! Congratulation Meals on Wheels Spokane on a fantastic event - we look forward to partnering once again for this year's Share the Love Event!
---
Mowtown Downtown for Meals on Wheels Spokane! - Mollie D
Subaru of Spokane was pleased to be a part of Mowtown Downtown benefitting Meals on Wheels Spokane! Hosted by Barrister Winery in Downtown Spokane with incredible music and entertainment provided by local international recording artist Kenny Andrews the place was rocking well into the night to benefit wonderful our wonderful friends at Meals on Wheels Spokane!
---
Spokanimal Share the Love Adoption Event - Gail M
On May 9th Subaru of Spokane hosted a pet adoption event at our location in downtown Spokane. Animals were provided by Spokanimal and the Basset rescue. We had close to 50 animals of which most of which found happy new homes! This is the 7th Pet adoption event we have hosted at Subaru of Spokane - there will be many more with our wonderful community partners and friends at Spokanimal!
---
Subaru Loves Earth - Sean J
Subaru of Spokane was proud to host our 1st E-Waste recycling event in April. I was a huge success collecting numerous old computers, monitors, TVs, phones, DVD players and more. The items will be picked up and processed by All Green Recycling in one of their secure facilities for full reporting. Thanks to ALL who participated to make this event a true success! John LeFriec, GM Subaru Spokane
---
Walk N Roll 1K and 5K for MS! - Crystal T
Last April (2014) marked a journey that changed my life forever. One morning, I woke up with numbness my hand that I could not explain. Over the next week the feeling spread over the left side of my body until I was unable to walk, coordinate movements, or even think or talk clearly. After many tests and examinations, I was diagnosed with Multiple Sclerosis (MS). MS is a degenerative nerve disease of the central nervous system that causes varying amounts of disability which is different for each and every person. With the love and support from my amazing family, friends, coworkers and sheer determination, after a few months I managed to recover feeling and coordination and start running again. I believe that the more active you are (no matter what your level of ability) the longer you can put off progression of the disease. Now I am more determined than ever to keep running for as long as I can and want to encourage others to stay active by organizing the Walk N Roll 1k and 5k for MS. My dream was to organize an event that every one, of every ability can participate in, to encourage positivity through activity, and promote awareness of this disease. Throughout my journey, John Lefriec and his wonderful team at Subaru of Spokane have have generously supported my efforts to raise awareness and funds for the MSAA by helping support my dream to organize the Walk N Roll for MS.
---
Sharing the Love with Meals on Wheels Spokane! - Mollie D
In furthering our long standing partnership with Meals on Wheels Spokane we chose them as our local charity recipient for this year's Share the Love Event. With their help we put together a number of events promoting both Share the Love and Meals on Wheels Spokane as our local charity. They included a "Stuff Santa's Red Outback", a pet adoption event focusing on MOW's pet food program, desk toppers and posters around the store promoting and educating our customers about Share the Love and Meals on Wheels Spokane. Most important were our sales TEAM members that promoted the event and MOW Spokane as the "choice" and exactly what this would mean to our local community. The result was 160 of the 166 vehicles we sold during the event chose Meals on Wheels Spokane generating a check for $40,000 signed by every one of our employees! The impact on our local community - over 10,000 meals to our local needy friends and neighbors! We had a great party to celebrate -photos attached! John LeFriec GM Subaru of Spokane
---
Meals on Wheels Spokane - John L
We started our partnership with Meals on Wheels Spokane(MOW) about two years ago. Since that time we have been fortunate to partner in a number of great events to benefit this invaluable local Charity. This year during Share the Love we not only chose MOW Spokane as our local charity but included a number of fun events here at the store to promote it. Of the almost 170 vehicles we sold during the event we believe that over 90% chose MOW Spokane as their charity raising valuable dollars ALL to be spent helping our local neighbors. In addition Subaru of Spokane funded the creation and production of a 5 minute fund raising video that is used daily to help raise awareness and monies for MOW Spokane. It can be seen on MOW Spokane FB page, Subaru of Spokane FB pages or the following YouTube link: https://www.youtube.com/watch?v=pHJp9YnaadA And the best part for our team, was the opportunity for a number of us to be actively involved in delivering meals on a regular basis. It truly brings home exactly what MOW is all about and just how important they are to our local community.
---