The 2022 Subaru Love Promise Community Commitment Award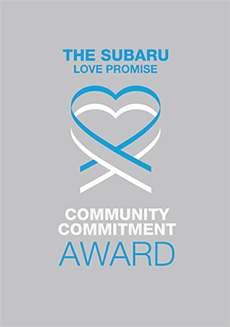 We've been nationally recognized for our dedication to our community and the Subaru Love Promise.
We're honored to receive the 2022 Subaru Love Promise Community Commitment Award. This award nationally recognizes Subaru retailers who are making the world a better place while demonstrating an outstanding commitment to supporting passions and causes in local communities. These efforts are focused in important areas such as the environment, community, health, education, and pets.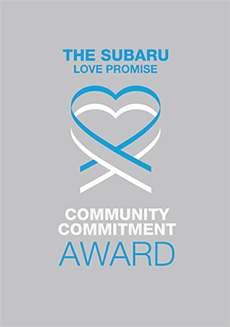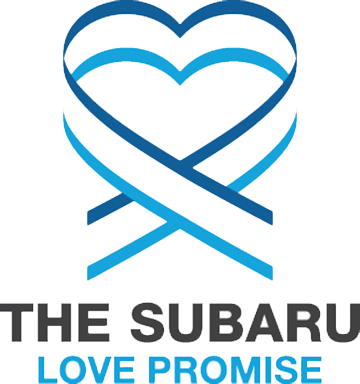 What is the Subaru Love Promise?
Subaru and our retailers believe in making the world a better place and the Subaru Love Promise is our vision of respecting all people. This is our commitment to show love and respect to our customers and to work to make a positive impact in the world.
How is Subaru of Spokane dedicated locally to the Love Promise?
Our Love Promise can be seen in various partnerships with local charities and non-profits. We're grateful for the opportunity, not only to be a part of our community, but to serve it as well.
Love Promise Stories from Subaru of Spokane
Subaru and Subaru of Spokane believe in making a positive impact on the communities in which we live and work. We uphold that belief through our Love Promise Community Commitment. Every month, we select inspiring stories from customers and partners from around our area who strive to support our collective commitment and feature them here
Subaru Loves To Help - Jon M
Subaru of Spokane partnered with Teen & Kid Closet for the months of October and November, donating $50 for every new car purchased. Teen and Kid Closet is all about dignity for an often-overlooked population, children in need. The idea is simple. They give new or gently used clothing to children who need it for free. TKC's main focus is youth in foster care or in poverty. Most of the youth they serve have no other access to nice clothes. TKC is serving more than 400 children and young adults each month in eastern WA and North ID. Jon and Kaitlyn, representing Subaru of Spokane were able to visit the store and give TKC a donation for the new car sales of October. This donation was able to provide rent and new clothes for the store. After getting a tour of the store, Kaitlyn said "It is amazing how a group of so many volunteers come together to provide much needed help and assistance to uplift our community." Together, we are helping our children and youth understand how much our community cares and believes in them.
---
Spokane Humane Society Underdog, Lucky, Finds His Forever - Madison B
Lucky arrived at the Spokane Humane Society with his mom, Sky, when he was 2-years-old on March 8, 2022. They were an emergency surrender. Their owner no longer had a place to live and did not want that life for their pets, so it was time for Lucky and Sky to find a new forever. As the economy has been hard on all of us, it's been hard on our furry friends, too. Sky and Lucky tried at a forever home together, but "luck" was not on their side, this time. They were returned because they weren't the right fit and it was time to try again. As their time lengthened at the shelter, they began adjusting to shelter life and gaining confidence, so we felt comfortable allowing them to try and find a home separately to see if that helped their chances. Lucky's mother, Sky, found her home two months before Lucky. She is absolutely adored and treated like a princess in her new home, enjoying daily trail walks and snuggles on the couch. Then, during Subaru Loves Pets Month, Lucky was one of our featured underdogs! This sweet boy is fun-loving, active and absolutely adores attention. Each day he'd get out of his kennel, he loved to run around the play yards, wiggle-butt his way to his favorite people, sunbathe and just enjoy life. We knew he would make a wonderful companion and didn't understand why he was still waiting for love. In August, Lucky was moved from the public kennels to a private kennel area, he was becoming rowdy, difficult to handle on a leash and was getting worked up around other dogs. So an area with less stimulation was needed for him. He was becoming restless in the shelter and we knew he needed to find a home soon. When Subaru Loves Pets month arrived, Lucky was one of our featured underdogs. Though he wasn't located in the public kennels, he was top of mind whenever someone who met his requirements walked through our doors. In October, it was a lucky day when his future human walked in. She had a kind face, gentle demeanor and was looking for a forever companion. Plus, she seemed to be a match for Lucky! After meeting him, she visited him multiple times before committing to forever. And he loves her just as much as she loves him! Now, this underdog is living his happily-ever-after. Thank you, Subaru, for helping pets like Lucky find a second chance at love.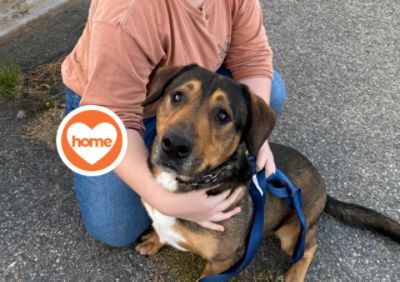 ---
Special Underdog Delivery - Anna H
Subaru's commitment to helping Underdogs aligns perfectly with one of our shelter's favorite programs: Hearts & Paws. This program is done in alliance with Sullivan Park Care Center and involves seniors living in skilled nursing fostering and finding homes for SpokAnimal senior dogs, one canine at a time. While that's reason enough to love the program, another meaningful aspect of Hearts & Paws is that it gives participants a sense of purpose by providing a means of giving back – and these seniors do a fabulous job! Since the program started in March 2022, they have found homes for a dozen senior dogs. As part of Subaru's quest to help Underdogs (those pets prone to longer shelter stays, like senior dogs), Subaru of Spokane made a special delivery to our Hearts & Paws team. Jon Miller arrived in a new 2023 Crosstrek Sport to ensure Shia, the current foster dog, has a special Bark Box and squeaky Subaru car toy to take with her when she's adopted! The break in daily routines made for a fun day and Shia scored extra love, attention and treats! While our hope is that one-day skilled nursing centers across the national will adopt this program, until then, we appreciate Subaru of Spokane acknowledging the work these pawsome seniors are doing. And, if you have room in your heart and home for a senior dog, please call Patty on the Hearts & Paws Adoption Hotline at (509) 846-3237.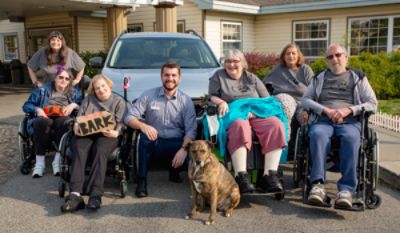 ---
Subaru Loves Pets! - Anna H
It's October and SpokAnimal's favorite time of year because it's Subaru Loves Pets month! SpokAnimal is proud to partner with Subaru of Spokane and use this opportunity to raise awareness about animals that need loving homes. Thanks to grant funding from the ASPCA and Subaru, we prepped over 30 animals for the dealership adoption event held at the beginning of the month. The Subaru Sales Team and students from Gonzaga University's Man's Best Friend club helped make the event memorable. Four pets found homes and dog adopters scored special Subaru Adoption Bark Boxes chocked full of great swag! Subaru also provided squeaky Subaru car dog toys that our pups enjoyed throughout the event. As if all those treats weren't enough, special dog biscuits, complete with the Subaru Loves Pets logo were enjoyed by the dogs too! Throughout the rest of the month, SpokAnimal will be sharing Subaru's efforts to promote "Underdogs" -- those dogs that tend to have longer shelter stays because of they are senior, blind, deaf, or "different". On October 22, Subaru's Make A Dog's Day, we will have special celebrations planned. More on that to soon.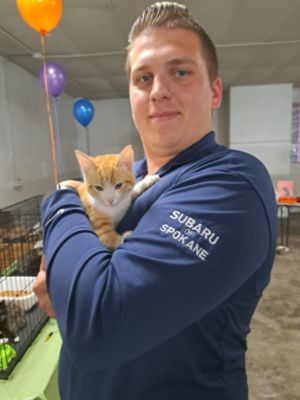 ---
Underwear Drive - Jessica C
Helping boost the self-esteem of kids and teens in-need by providing fashionable clothing and accessories of their choice, Subaru of Spokane is proud to partner with Teen & Kid Closet. Recently, Subaru of Spokane donated a massive supply of underwear to support Teen & Kid Closet's mission.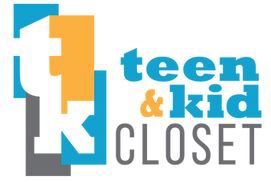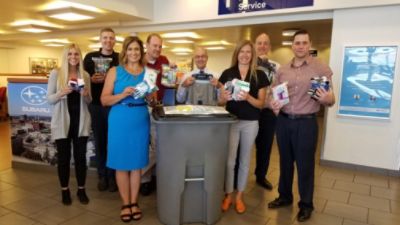 ---
SUBARU LOVES LEARNING - Jessica C
Subaru of Spokane is honored to be matched with Roosevelt Elementary through Subaru Loves Learning initiative and teaming up with AdoptAClassroom.org for a second year! Subaru of Spokane dropped off learning kits to Roosevelt Elementary filled with supplies and resources for the classroom. Every student deserves to thrive in the classroom and we are so happy to be a part of it!
---
Meals on Wheels & Subaru of Spokane - Daniel C
Subaru of Spokane is proud to support Meals on Wheels Spokane - eight years and counting! Meals on Wheels Spokane provides an invaluable service to our community by providing meals to needy seniors in Spokane. Over 500 meals daily and more than 170,000 meals each year. We are honored to assist in any way we can.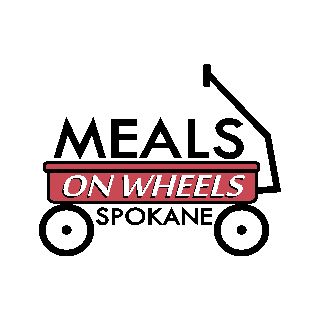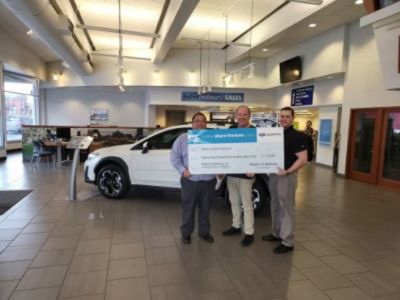 ---
Subaru Loves to Help Renew A Ride - Hunter F
In her official submission, Jodi Nuttman wrote, 'Kamryn Nuttman is an extremely hard working single mom of an almost 2 year old girl named Eleanor. Kam is in her last quarter of college at EWU, and also works part time at the EWU children's center. She had been saving for a down payment on a new to her car, but when COVID hit, her work closed down for a while, and she had to use that savings for living expenses. Her daughter has appts at Seattle Children's several times a year, and the car she has now is *ok*, but isn't the best, especially with all the traveling across the state. Kamryn works very hard to make a good life for her and Eleanor, and since she's been born, Kam has been on the Deans list almost every quarter. I'd love to see them in a nice, safe vehicle, and have some good luck come their way. Wednesday afternoon, it did. Kamryn was told the family had to pick up a loved one from Subaru of Spokane. Quickly after arriving, Kamryn learned she was in for the surprise of a lifetime. "My heart…it feels like it's going to beat out of my chest," she said. Jodi says as soon as she heard about the latest 'Renew-a-Ride' campaign, she couldn't' think of anyone more deserving than her daughter. "It's hard to watch her deal with it all… but she never complains," she said. Kamryn is a single mother of a toddler named Eleanor. "It's been a lot having her by myself and going to school and work," she said. Also on their busy schedule is regular doctor's appointments for Eleanor. She has an issue with her leg, and the struggle to get answers about what is wrong has been a lengthy one. "We are not sure what the issue is with her leg right now," she said. "We're trying to figure that out. It's a lot of long trips. She is so good." Kamryn's previous vehicle has more than 100,000 miles the family said. They also frequently worried during trips to the doctor "They were over a few times this winter, and I always a worry about them with the pass," Jodi said. But that stress is now in the rearview for not one but two deserving ladies, both Kamryn and her daughter.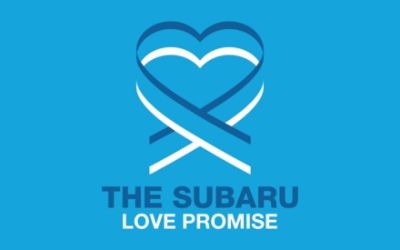 ---
Subaru of Spokane loves to care - MICHAEL K
It is our pleasure to be in partnership with our local Meals on Wheels Spokane branch. Once again we have chosen Meals on Wheels Spokane to be our hometown charity during our year end Share The Love event. We like to think we have a small part in helping Meals On Wheels Spokane help the needy and less fortune citizens in our city. We also sponsor and donate to their many events. Golf outings, Motown music and dancing and " stuffing the trunk " at various locations around the city. Our employees pitch in and deliver meals as well. We are proud to be a small part of this wonderful and needed organization. We are happy that we have continued our partnership in 2021 and look forward to 2022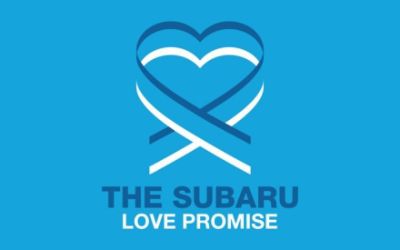 ---
Cosmo the Underdog's Rags to Riches Story - Anna H
Cosmo is a Subaru Underdog with an amazing rags-to-riches story. In December 2020, Cosmo was one of 100 dogs rescued from horrific hoarding conditions in California. Unable to find local placement for the traumatized Chihauhua, the rescue group transferred Cosmo to SpokAnimal in September 2021. The poor little guy arrived in rough shape. His corneal scar was noted along with poor skin conditions and dental disease. While nothing could be done for his eye, SpokAnimal provided Cosmo with a complete dental that included 10 extractions, ending the pain he'd endured due to poor oral health. Dietary improvements addressed his skin conditions, and a loving foster provided a soothing home to recuperate. Cosmo made his adoption-ready debut at Subaru of Spokane during the ASPCA/Subaru Love Pets adoption event in early October 2021, but it would be his appearance at PetSmart a few days later that landed him a new home. Jessica, a store employee and local grad student, learned his backstory and relayed his tale to her Mom. Susan and her husband, who are empty nesters living in Southern Idaho, had been thinking about adding a new addition to their fur family. While they had been leaning towards a puppy, Cosmo's story touched their hearts. They knew he might not ever be a playful dog and that it might not be easy, but they could give the 8-year-old senior gent the loving home he's never had. With a girl's weekend already scheduled, a deal was struck. Susan's daughter was her proxy in Cosmo's adoption, and Cosmo was given to Susan over the weekend get-away. Today, Cosmo contently shares a quite home with another senior dog and two cats. While he's still taut with tension and he spends much of his time in his safe-haven crate, day-by-day Susan sees him gradually understanding that he's in a place where he will be well cared for and loved. Happy forever after, Cosmo! The sky's the limit!
---